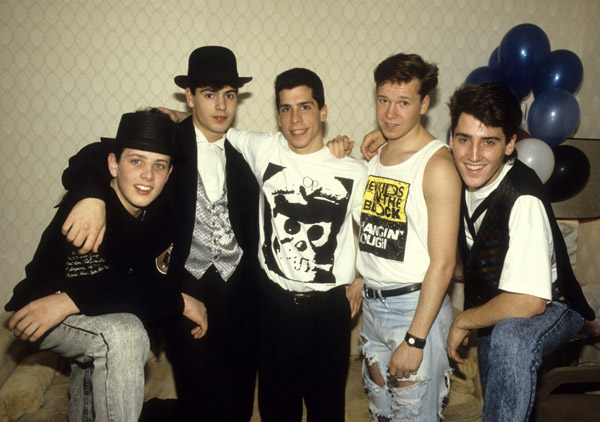 Dentro de la
"polémica"
encuesta que realizamos sobre las
"Boy-Band"
, la más aceptada en este muy rudo blog (?) fue los
New Kids On The Block.
Intentaremos descifrar el porqué.
A mediados de los ochenta,
los "bussiness-man" Maurice Starr y Mary Albert,
tuvieron la brillante idea de formar un quinteto pop-vocal y tras un par de tropiezos,
se logró que en 1989 la placa "Hangin' Tough" hiciera ventas multitudinarias
quitando el sonido excesivamente acaramelado y dándole un toque ligeramente callejero aunque sin salir de lo "políticamente correcto". El grupo de
Boston
fue una sensación mundial en el cambio de década.
Mientras
Jordan Knight, Donnie Wahlberg, Danny Wood, Jonathan Knight y Joey McIntyre
rompían cuanto
corazón de quinceañera ochento - noventosa
existiera, la invasión de la mercadotecnia no se hizo esperar (entre original y pirata), aparte de discos, contaba la ropa, ajuguetes, accesorios, goma de mascar y hsata una serie de dibujos animados. Estuvo clarísima la intención comercial, pero con gente en crecimiento, el negocio es muy breve.
Y si
"Step By Step" (1990)
fue una maquinaria en ventas,
Face The Music (1994)
marcó el inicio de la decadencia: los chicos no estaban tan chicos y el negocio había cambiado:
ahora las caritas sonrientes no "pegaban", sino las enojadas.
Los
New Kids On The Block tal vez no dejaron una huella trascendental en el mundo de la música popular, pero si enormes recuerdos en una generación infanto - juvenil
que entre los
80 y 90
escuchó sus discos y soñó ser ellos / estar con ellos y sobretodo, porque parecieron ser la original idea de la "boy-band" que llenó los escaparates de las tiendas de discos de finales de los 90. Si llegó a muchos, es necesario hacer un reconocimiento.
Aparte de que quedó clarísimo que la mayoría de nuestras visitas proviene de gente "sub-35" :D